Introduction
The Allure of Fayetteville and the Luxury of Convertible Rentals
Are you intrigued by the lush landscapes and vibrant culture of Fayetteville? Are you looking to explore this city in style and make a lasting impression while embracing its unique allure? If so, there's a solution that not only meets these requirements but revitalizes your travel experiences – the luxury convertible rentals in Fayetteville. At Choice Signature Luxury Car Rental, we believe that luxury isn't just a feature, it's an experience. We offer exotic car rentals and luxury convertible car rentals in Fayetteville, that bring the thrill of upscale comfort and lets you stand out from the crowd while cruising around this enchanting city.
The Unique Experience of Exploring Fayetteville in a Luxury Convertible
There's something special about having the wind rushing through your hair as the powerful engine purrs beneath you, all while you enjoy a stunning panorama of the Fayetteville cityscape. Exploring Fayetteville in a luxury convertible rental is an unparalleled experience, combining the thrill of the unique open-air driving with the luxury and comfort of high-end vehicles. From the exceptional comfort and features of a Cadillac Escalade to the sporty flair of a BMW, our luxury convertible rentals are the epitome of style, power, and opulence.
At Choice Signature, we provide a mix of luxury and exotic vehicles, letting you choose the perfect blend of adrenaline and elegance for your Fayetteville adventure.
Here's a brief look at our luxury convertible offerings:
2019 Cadillac Escalade Rental: Automatic, $395/Day
2013 Mercedes G Wagon Rental: Automatic, $495/Day
2013 Premium Porsche Panamera Rental: Automatic, $295/Day
2018 Black Cadillac Escalade Luxury: Automatic, $275/Day
2016 BMW Rental: Automatic, $495/Day
Black Lamborghini Rental: Automatic, $1600/Day
Whether for corporate events, memorable proposals, photo shoots, or a lively night out—one of our luxury convertibles is certain to elevate your experience. Your dream car is just a click away. So, come, delight in the liberties of convertible life, and let us transform your Fayetteville trip into an unforgettable experience.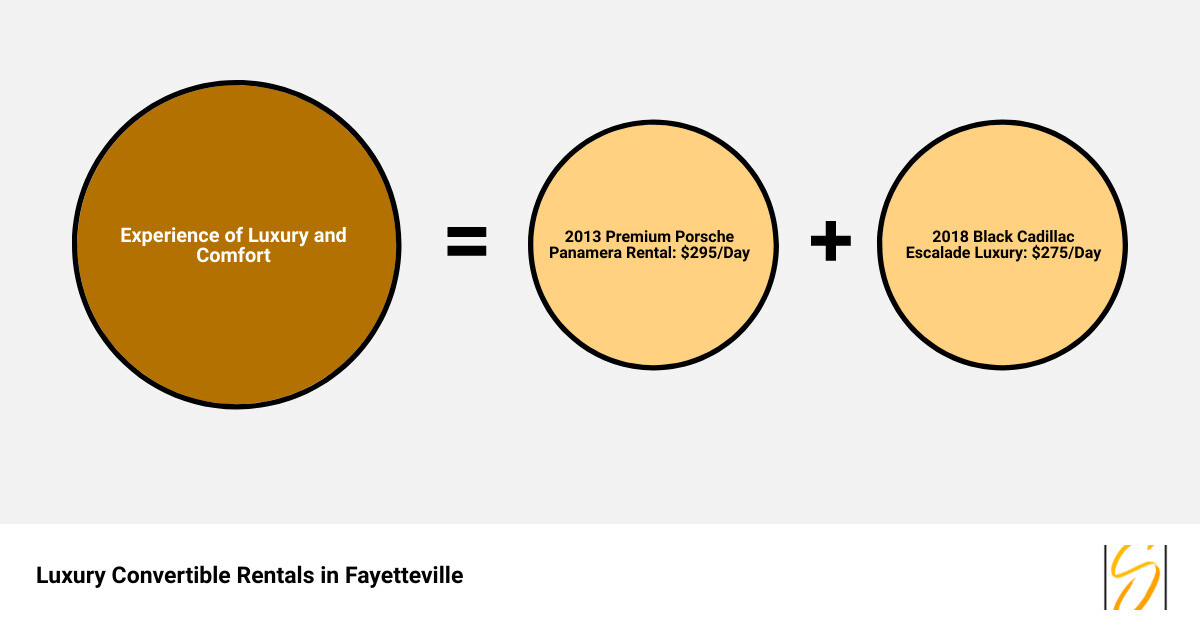 Why Choose a Luxury Convertible for Your Fayetteville Adventure
The thrill of driving a luxury convertible
Imagine the exhilaration of cruising down the open roads of Fayetteville in a high-end vehicle, the wind in your hair, and the warm sun on your skin. There's something uniquely thrilling about driving a luxury convertible. It's not just about getting from point A to point B; it's about the journey itself. The rush of wind as you step on the accelerator, the roar of the car's powerful engine, it's a visceral experience that makes even modest speeds exciting. Your drive is no longer just a necessary part of the trip but becomes an adventure in itself.
Making a statement with a luxury convertible
Renting a luxury convertible isn't just about the drive but also the statement it makes. When you arrive at your destination in a luxurious convertible car, like a Mercedes-Benz or a Tesla, it's bound to turn heads. Whether you want to impress your co-business associates at a meeting, make your date night memorable, or simply feel like a superstar, a luxury convertible car rental is the way to go. As one Reddit user humorously noted, "I thought ye said a Protestant. Come here and give yer old man a hug," showcasing the power a luxury car has in transforming perceptions.
The comfort and convenience of luxury convertibles
Comfort and convenience are key when it comes to travel, and luxury convertibles provide both in abundance. With spacious interiors, state-of-the-art technology, and top-of-the-line safety features, these vehicles are designed to make your journey as comfortable and enjoyable as possible. Plus, when the weather is beautiful, you can fully appreciate it by removing the top of the convertible. And when things cool off or it begins to rain, you can easily put the top back on for comfort and convenience.
Choosing a luxury convertible rental in Fayetteville from us at Choice Signature Luxury Car Rental ensures you not only enjoy the thrill of the drive and make a statement but also benefit from the comfort and convenience that these top-end vehicles offer. It's not just a rental; it's a whole experience. And with our wide range of luxury convertibles, we're confident we have the perfect match for your unique needs and preferences. So why not make your Fayetteville adventure one to remember with a luxury convertible rental? Contact us today at (404) 531-1572 and let's get you on the road to luxury and excitement.
Top Luxury Convertible Brands Available for Rent in Fayetteville
Your adventure in Fayetteville deserves nothing less than the best. At Choice Signature Luxury Car Rental, we provide an exclusive range of top luxury convertible brands that redefine elegance and power. Here's a taste of what you can expect.
The Elegance of Mercedes-Benz Convertibles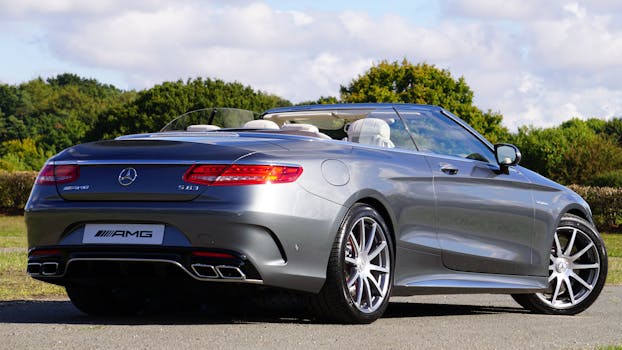 Nothing quite speaks of sophistication and class like a Mercedes-Benz convertible. Built with a thoughtful blend of comfort, performance, and luxury, these vehicles offer an unrivaled driving experience. The sleek interiors seamlessly blend with the stylish exteriors to create an ambiance of pure elegance. As soon as you step into one of our Mercedes-Benz convertibles, you'll understand why it's often the first choice for those looking to make a statement.
The Power of McLaren Convertibles
For those who value performance above all else, the McLaren convertible is a perfect match. Famed for their outstanding speed and precision handling, McLaren convertibles promise an adrenaline-fueled journey through the streets of Fayetteville. The roar of the engine, the swift response to your touch, and the sheer thrill of acceleration – all contribute to a driving experience that's nothing short of exhilarating. When you choose a McLaren from our fleet, you're not just renting a car; you're stepping into a world of unmatched power and performance.
The Innovation of Tesla Convertibles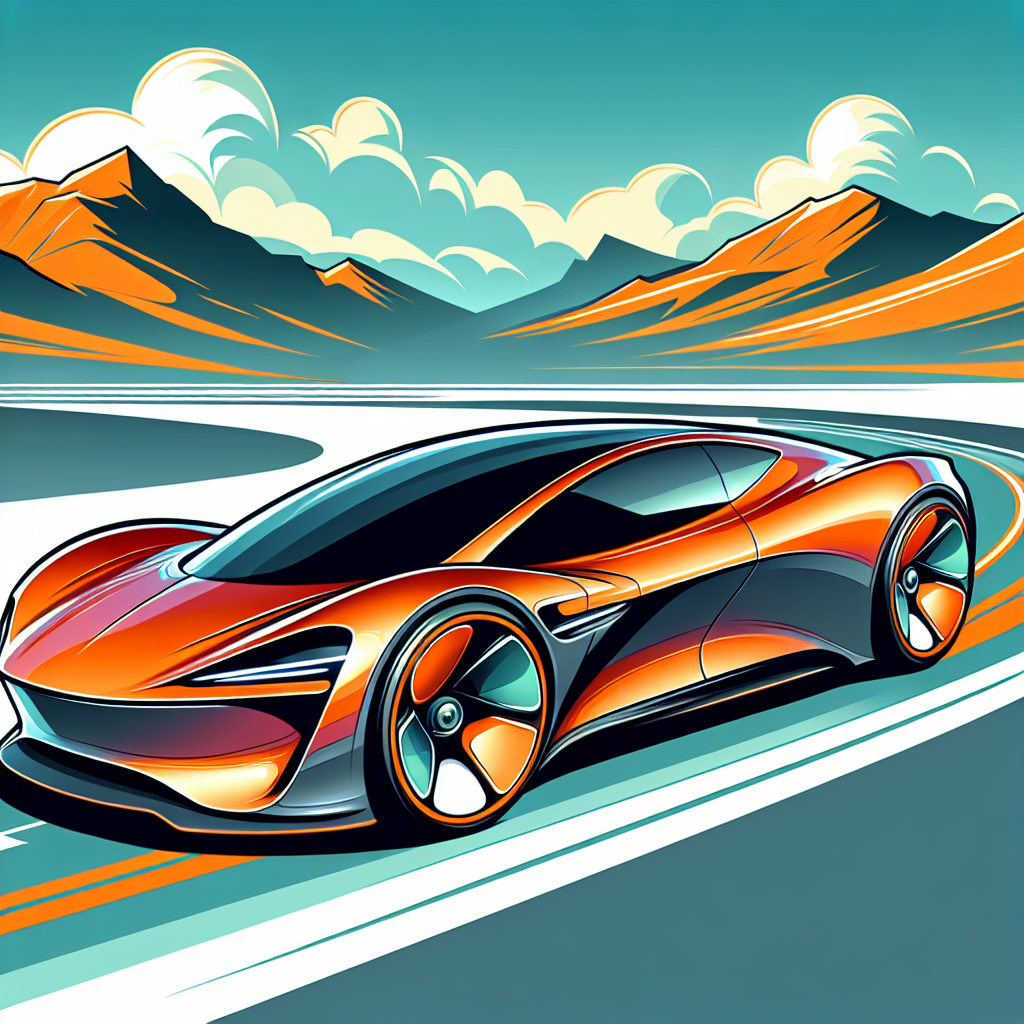 If you're a tech enthusiast with an appreciation for sustainable luxury, a Tesla convertible could be your dream ride. Tesla's cutting-edge technology, coupled with its eye-catching design and outstanding performance, sets it apart from traditional convertibles. Experience the silent yet powerful acceleration, the autopilot capabilities, and the unique all-electric experience that only a Tesla can offer. Renting a Tesla convertible from us means embracing the future of luxury automotive.
At Choice Signature Luxury Car Rental, we take pride in offering a wide range of high-end convertible brands. Whether you're drawn to the elegance of Mercedes-Benz, the power of McLaren, or the innovative spirit of Tesla, we have the perfect luxury convertible waiting for you. Contact us today at (404) 531-1572, and let's make your Fayetteville journey an unforgettable one.
How to Rent a Luxury Convertible in Fayetteville
Are you ready to experience Fayetteville in a luxury convertible? Renting a luxury convertible with us is a straightforward process. We'll walk you through each step and ensure you're well-equipped for your stylish Fayetteville adventure.
Understanding the Rental Process
Renting a luxury convertible with us is as simple as 1-2-3. Begin by browsing our wide selection of luxury convertibles on our website. We offer a variety of well-maintained and high-quality luxury convertibles, each with its unique features, style, and driving experience.
Once you've selected your dream convertible, reach out to us either by phone at (404) 531-1572 or through our online platform. Our team is always ready to assist you with your booking and answer any questions you might have about the cars or the rental process. Once your booking is confirmed, all that's left is for you to pick up your luxury convertible and start your unforgettable Fayetteville adventure.
Tips for Getting the Best Deal on Your Luxury Convertible Rental
To ensure you get the best deal on your luxury convertible rental, here are a few tips:
Book Early: The earlier you book, the higher your chances of securing your desired luxury convertible at an affordable price.
Consider Rental Duration: Depending on your needs, consider renting the car for a longer period as longer rental durations often come with discounted rates.
Check for Special Offers: Keep an eye out for special deals and promotions on our website. These offers can significantly reduce your rental cost.
The Importance of Insurance When Renting a Luxury Convertible
Insurance is a critical aspect of the car rental process. Even with the best driving skills, accidents can happen, and the costs can be hefty. This is particularly true for luxury vehicles, which can be expensive to repair or replace.
If you have your own car insurance, we will first verify if your coverage is transferrable to the rental car. If it's not, we offer rental insurance for a small daily rate that covers any potential damages to the car during your rental period, including theft and fire coverage as mentioned on our FAQ page.
In the event of minor damages, such as scuffs or scrapes, these are typically charged to your security deposit. Once the invoice is settled, you can make a claim with your insurance company for reimbursement.
Remember, the aim is to enjoy your Fayetteville adventure in your luxury convertible without any worries. Ensuring you're adequately covered by insurance gives you the peace of mind to do just that.
In the next section, we'll highlight some fantastic Fayetteville destinations to explore in your luxury convertible. Stay tuned!
Exploring Fayetteville in a Luxury Convertible: Top Destinations
There's nothing quite like the thrill of hitting the open road in a convertible with the top down. The wind in your hair, the sun on your face, and the purr of a luxury engine beneath you. Fayetteville, AR, with its vibrant culture and scenic beauty, is perfect for such an adventure. Let's delve into some of the top destinations you can explore in Fayetteville with our luxury convertible rentals.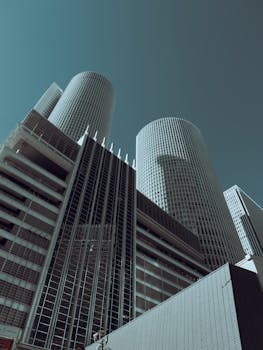 The Charm of Downtown Square Garden
With the keys to a luxury convertible in your hand, your first stop should be the Downtown Square Garden. This beautiful, cozy garden is a testament to Fayetteville's commitment to urban green spaces. The cleanliness and tranquility of the garden will make for a delightful stroll. Plus, you never know what you might stumble upon, as there's always something happening in the square. For instance, the turning on of the Lights of the Ozarks is a sight that will surely take your breath away. Let your luxury convertible take you there in style and comfort.
The Culture of Theatre Squared
Fayetteville is not only about beautiful sceneries; it's a cultural hub too. Theatre Squared, a local theatre that hosts live presentations and plays, is a must-visit. Here, you will be captivated by talented actors who bring stories to life right before your eyes. The theatre is easily accessible, and your luxury convertible will add to the overall experience of a night at the theatre.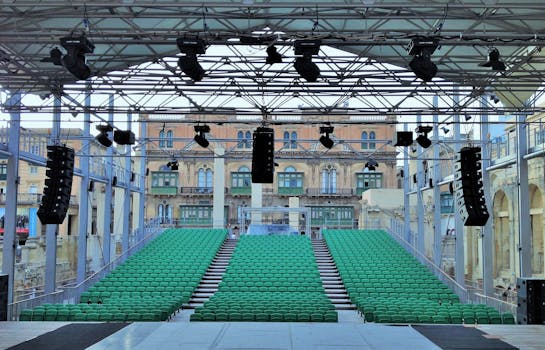 The Taste of Fayetteville: Sassy's Red House Restaurant and Hugo's Restaurant
After indulging in culture and nature, your next stop should be to savor some of Fayetteville's delicious cuisines. Drive your luxury convertible to Sassy's Red House Restaurant, famous for its American dishes and BBQ. Or, if you prefer something more casual, Hugo's Restaurant offers fantastic hamburgers and is also vegetarian-friendly. The convenience and style of your luxury convertible will make your dining experience even more enjoyable.
Driving around Fayetteville in one of our luxury convertibles allows you to experience the city in a unique and exhilarating way. Whether you're taking in the beautiful sights, soaking up the culture, or indulging in delicious cuisine, a luxury convertible rental from Choice Signature elevates the experience to a whole new level. In the next section, we'll share some customer experiences to give you a better idea of what to expect when you choose us for your luxury convertible rental in Fayetteville.
Customer Experiences: Luxury Convertible Rentals in Fayetteville
When it comes to luxury convertible rentals in Fayetteville, our clients at Choice Signature Luxury Car Rental have a lot to say. We believe that the best way to illustrate what we offer is by sharing real experiences from our customers. Here, we will delve into both the positive and negative feedback, using them as a learning tool to continuously improve our service.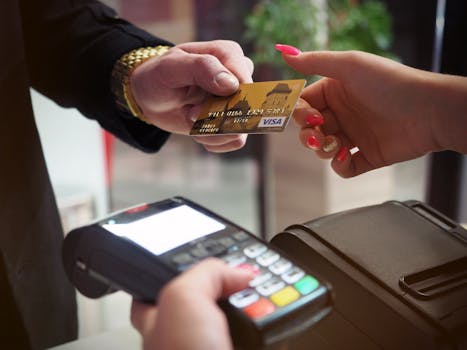 Positive experiences: Smooth process and friendly service
Many customers rave about their experiences with us. They often highlight our smooth rental process, friendly service, and the unforgettable luxury car experience we provide. For instance, one customer from a review on Kayak was particularly pleased with the staff at our Fayetteville location, describing them as "extremely helpful and pleasant." Another customer commended our quick and easy turnover, while others were thrilled to receive exactly what they asked for and found our customer service to be exceptional.
Learning from negative experiences: Cleanliness issues and pricing discrepancies
We also take negative feedback seriously, using it as an opportunity to improve our services. Some customers have reported cleanliness issues and pricing discrepancies. We are working tirelessly to address these issues, ensuring that every vehicle we offer is in top-notch condition and that our pricing is always clear and transparent from the outset.
For instance, we've implemented more stringent cleaning procedures to ensure that every car is spotless and ready for the next client. Regarding pricing, we're making it more transparent by providing detailed price breakdowns and ensuring that any additional charges like security deposits are communicated clearly and upfront.
Customer experiences are valuable to us at Choice Signature Luxury Car Rental, and we continuously strive to provide an exceptional luxury convertible rental experience in Fayetteville. We're dedicated to ensuring that our clients have a smooth, enjoyable, and memorable experience when they choose us for their luxury convertible rental needs.
In conclusion, whether you're in Fayetteville for business or pleasure, a luxury convertible rental from us is an excellent way to explore the city in style and comfort. Our extensive fleet of luxury convertibles will not only provide you with a thrilling driving experience but also turn heads wherever you go. So, why wait? Contact us today and experience Fayetteville in style with a luxury convertible rental.
Conclusion
Driving through the picturesque landscapes of Fayetteville in a luxury convertible is an unforgettable experience. There is something uniquely satisfying about the feeling of the wind on your face as you cruise through the city in a stylish, high-performance vehicle. With our vast selection of luxury convertibles from brands like Mercedes-Benz, McLaren, and Tesla, you get to choose the perfect car that matches your style and needs.
Throughout your journey, you've learned about the thrill and statement that comes with driving a luxury convertible, the comfort and convenience it offers, and the ease of the rental process with Choice Signature Luxury Car Rental. You've also gotten a glimpse of some top destinations in Fayetteville that are best explored in a convertible and heard about the experiences of other customers who've enjoyed our services.
But remember, reading about the experience is one thing; living it is another. So why not take the plunge and rent a luxury convertible for your next Fayetteville adventure? Whether you're planning a special occasion, a business trip, or just a weekend getaway, a luxury convertible can transform your journey into an extraordinary experience.
At Choice Signature Luxury Car Rental, we believe in providing more than just a rental service; we aim to offer an unparalleled luxury experience that you will remember long after your trip is over. Our team is ready to assist you in choosing the perfect vehicle for your needs, and we are committed to making your rental experience smooth and enjoyable.
So, are you ready to experience Fayetteville in style with a luxury convertible rental? We invite you to explore our exotic and luxury car rentals, find the perfect convertible that speaks to your style, and start your unforgettable journey. We look forward to serving you and helping you create lasting memories in Fayetteville.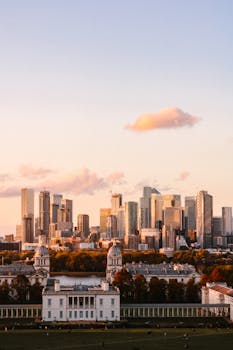 Remember, life is short. Drive the car of your dreams. Don't just imagine – experience it with Choice Signature Luxury Car Rental. Your Fayetteville adventure awaits!