Planning a trip to Brookhaven, but not sure where to score the best prices for a luxury car rental? At Choice Signature Luxury Car Rental, we understand your concern. Car rental cost can be a significant portion of your travel expenditure, and with prices fluctuating frequently, it often seems like a gamble to find the perfect deal. You're not alone in this dilemma – many individuals and business travelers alike are searching for the best price car rental in Brookhaven, just like you.
Whether you're seeking a sleek sports car to turn heads downtown or a comfortable luxury SUV for corporate travel, Brookhaven offers a wide range of options to meet your rental needs. But the question remains: with diverse services and price scales, how can you ensure you're securing the best deal available?
Before diving into the specifics, let's give you a quick snapshot of the average car rental prices in Brookhaven:
| Vehicle Type | Average Cost Per Day |
|—|—|
| Luxury (e.g., Cadillac Escalade) | $395 |
| Exotic (e.g., Lamborghini) | $1600 |
| Premium (e.g., Porsche Panamera) | $295 |
| Luxury SUV (e.g., Mercedes G Wagon) | $495 |
It's clear to see that prices vary quite drastically, with luxury sedans on one end and exotic sports cars on the other.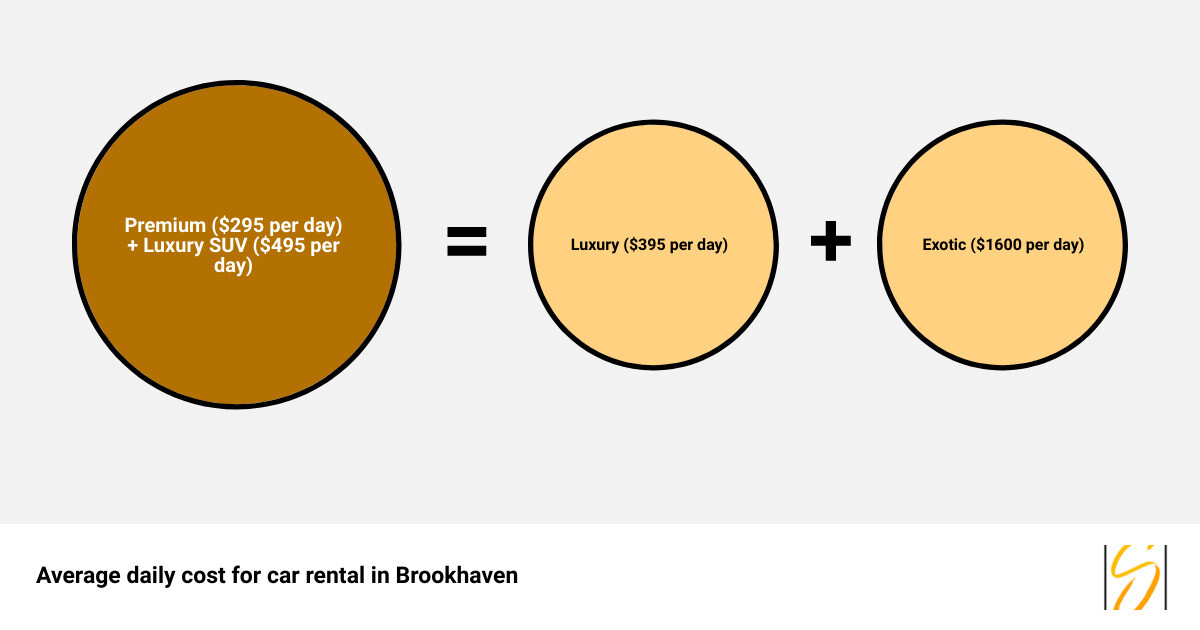 Stay tuned as we delve into the specifics of understanding the car rental market in Brookhaven and how to ensure you're not left out of pocket the next time you're in town for business or pleasure.
The Current State of Car Rental Prices in Brookhaven
Factors Influencing Car Rental Prices
Stepping into the world of car rentals might seem daunting, especially when it comes to understanding the pricing structure. Just as in other markets, the car rental prices in Brookhaven are influenced by a variety of factors.
First, the type of car you choose plays a significant role. Luxury cars such as those in our fleet at Choice Signature Luxury Car Rental come with a higher price tag due to the premium quality, comfort, and performance they offer. In contrast, compact or small cars are generally more affordable.
Secondly, the timing of your booking matters. Similar to flight tickets, the earlier you book, the better the price. For instance, the research indicates that the cheapest time to rent a small car in Brookhaven is in January, with prices dropping as much as 47% compared to the rest of the year.
Lastly, the supply and demand dynamics of the car rental market, as well as the popularity of the vehicle, also affect the pricing.
Average Prices for Different Types of Rental Cars in Brookhaven
To give you a clearer idea of what to expect, let's look at the average prices for different types of rental cars in Brookhaven.
For small cars, the average price is $61 per day, and these rentals are typically 29% less expensive than the average rental car in Brookhaven. Medium-sized cars, on the other hand, average at $62 per day, also offering a 29% savings compared to the average rental car.
When it comes to larger vehicles, the average price for a large car rental is $106, while SUV rentals average at $93 per day. Luxury car rentals, like those offered at Choice Signature, average at $78 per day, providing a luxury experience at a price that's 10% less than the average rental car.
Remember, these are averages, and prices can fluctuate based on the factors mentioned earlier. By understanding these factors, you can make informed decisions and secure the best price for your car rental in Brookhaven.
In the next section, we'll provide practical tips on how to do just that, so keep reading.
How to Secure the Best Price for Car Rental in Brookhaven
In the bustling city of Brookhaven, securing a rental car that fits your needs and budget can be a puzzle. But don't fret! We're here to help you piece together the best deal. With a few smart strategies like timing your booking, comparing different rental companies, and using online platforms effectively, you can unlock the best price for your car rental.
Timing Your Car Rental Booking
The early bird gets the savings! Just like booking a concert ticket or a flight, the sooner you secure your rental car, the better the deal you're likely to get. Demand and supply play a significant role in rental car pricing. During peak travel seasons or major events, prices can skyrocket due to increased demand. So, planning ahead and booking early can lead to substantial savings.
Comparing Car Rental Companies in Brookhaven
Don't settle for the first sweet candy you see in the store! In Brookhaven, you'll find numerous car rental companies, each offering a unique mix of car models, prices, and services. It's worth taking the time to compare these options and find the one that best suits your needs and budget.
You might find the perfect match with larger companies renowned for their extensive fleet, like Hertz or Budget. Or, you might prefer a more unique and luxurious experience from a local provider like us, Choice Signature.
Utilizing Online Platforms for Best Deals
In this digital age, finding the best car rental deal is just a click away. Online platforms like Uber Rent allow you to reserve rental cars directly through their app or website. These platforms partner with various car rental companies, providing you with a wide selection of cars and prices in Brookhaven.
By entering your reservation details on these platforms, you can compare prices from different companies side by side, saving you time and ensuring you get the best deal. Plus, these platforms often offer exclusive discounts and deals, so keep an eye out for those hidden treasures!
At Choice Signature, we understand that every customer has unique needs and preferences when it comes to car rental. That's why we offer a range of exclusive and luxurious vehicles at competitive prices. Our team is dedicated to providing a seamless and memorable car rental experience.
In the next section, we'll delve deeper into why you should consider Choice Signature for your car rental needs in Brookhaven. Stay tuned!
Why Choose Choice Signature for Your Car Rental in Brookhaven
Choosing a car rental service in Brookhaven goes beyond just securing the best price. It's about the entire experience: the variety of vehicles, the quality of service, and the assurance of safety. Here at Choice Signature Luxury Car Rental, we strive to provide all these and more.
The Unique Fleet of Luxury and Exotic Cars
Our extensive fleet of luxury and exotic cars sets us apart from other rental services in Brookhaven. Whether you're a business professional looking for a sleek and stylish ride or a family in need of a comfortable van for your trip, we've got you covered. Our collection includes top models from brands like Mercedes, Porsche, Lamborghini, and BMW.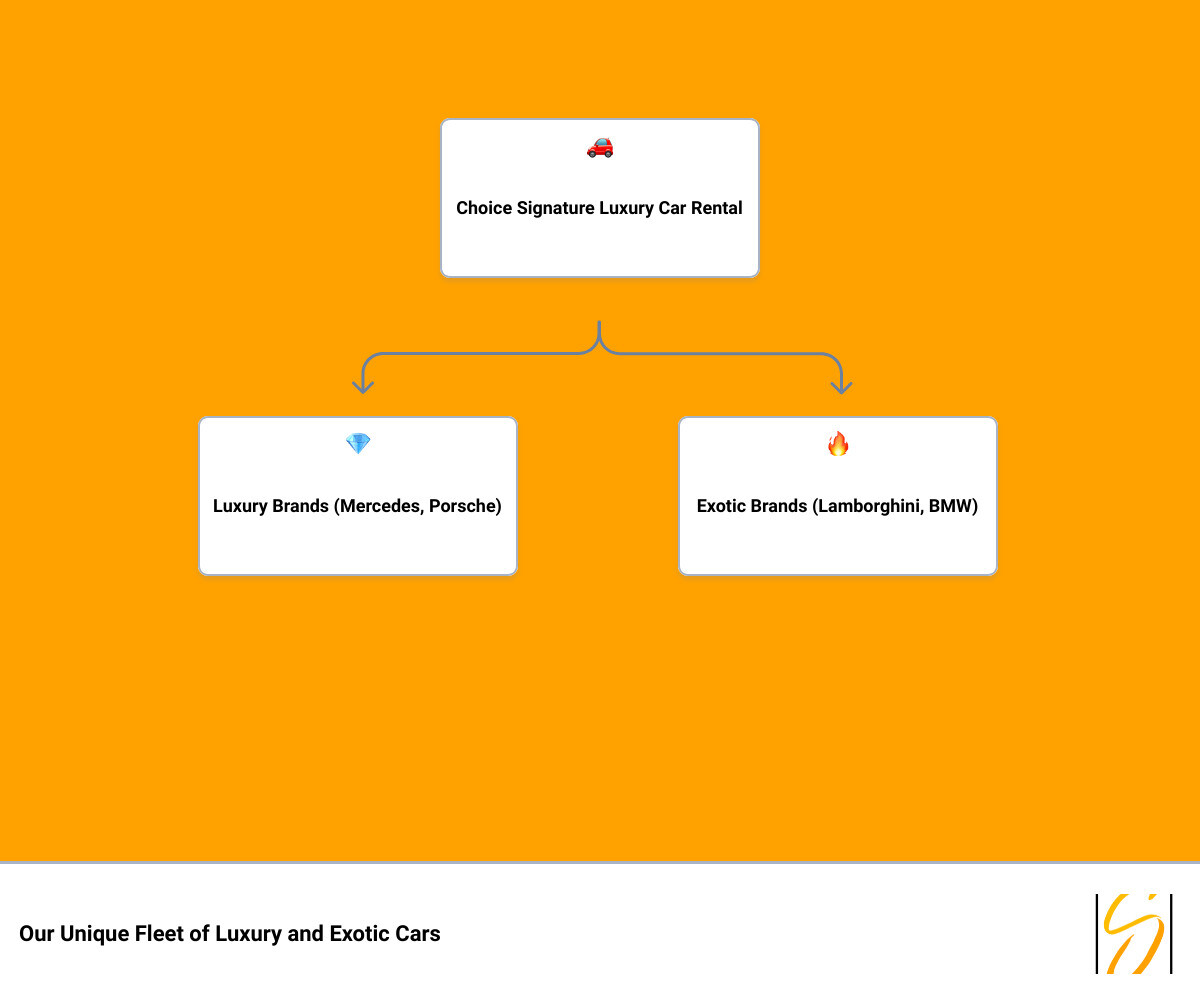 This infographic represents the diversity of our fleet, showcasing the various luxury and exotic cars available for rent. We believe in providing our clients with a plethora of choices to cater to their unique preferences and needs.
The Competitive Pricing of Choice Signature
While we pride ourselves on offering some of the most coveted vehicles in the industry, we also understand the importance of affordability. That's why we offer competitive pricing for all our cars. Our pricing model is transparent, with no hidden fees or last-minute surprises. We believe that everyone should have the chance to experience luxury, and we make this possible with our attractive rates.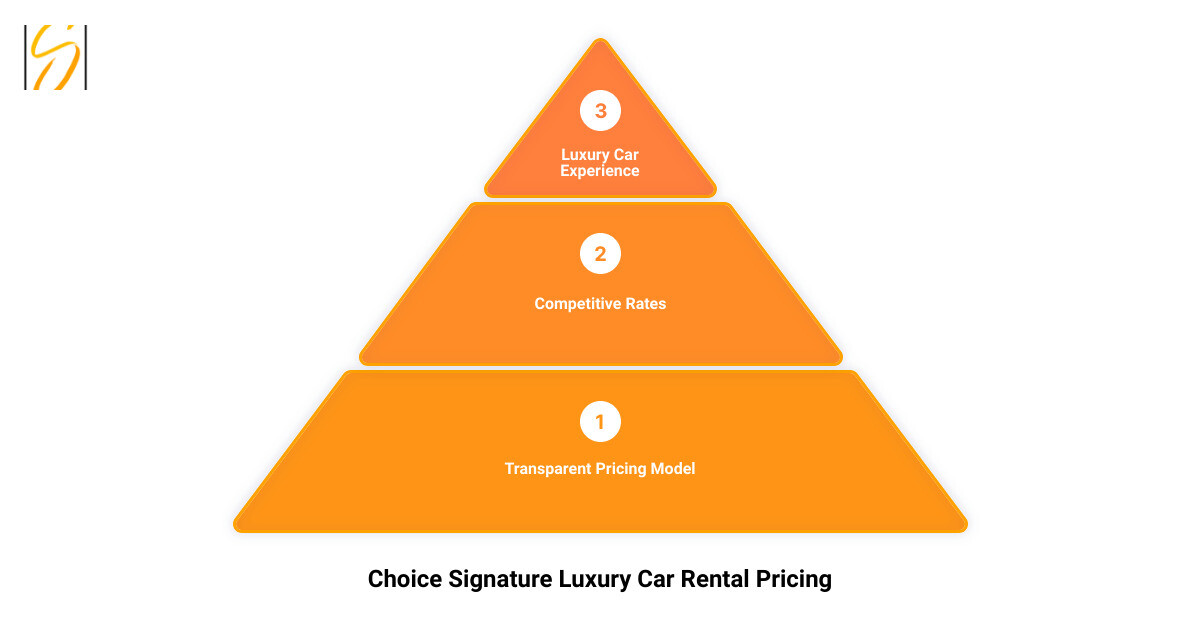 The above infographic encapsulates our competitive pricing strategy, ensuring you get the best deal in Brookhaven when you choose us for your car rental needs.
The Enhanced Cleaning Services and Fair Fuel Policies
In today's climate, cleanliness and safety are paramount. We've enhanced our cleaning services, ensuring every vehicle is thoroughly sanitized and ready for your trip. Our team adheres to strict cleaning protocols to provide you with a safe and clean environment.
Moreover, we believe in fair fuel policies. Unlike some rental companies that charge inflated prices for refueling, we only charge for the fuel you use. We encourage our clients to return the car with the same amount of fuel at pick-up to avoid any extra charges.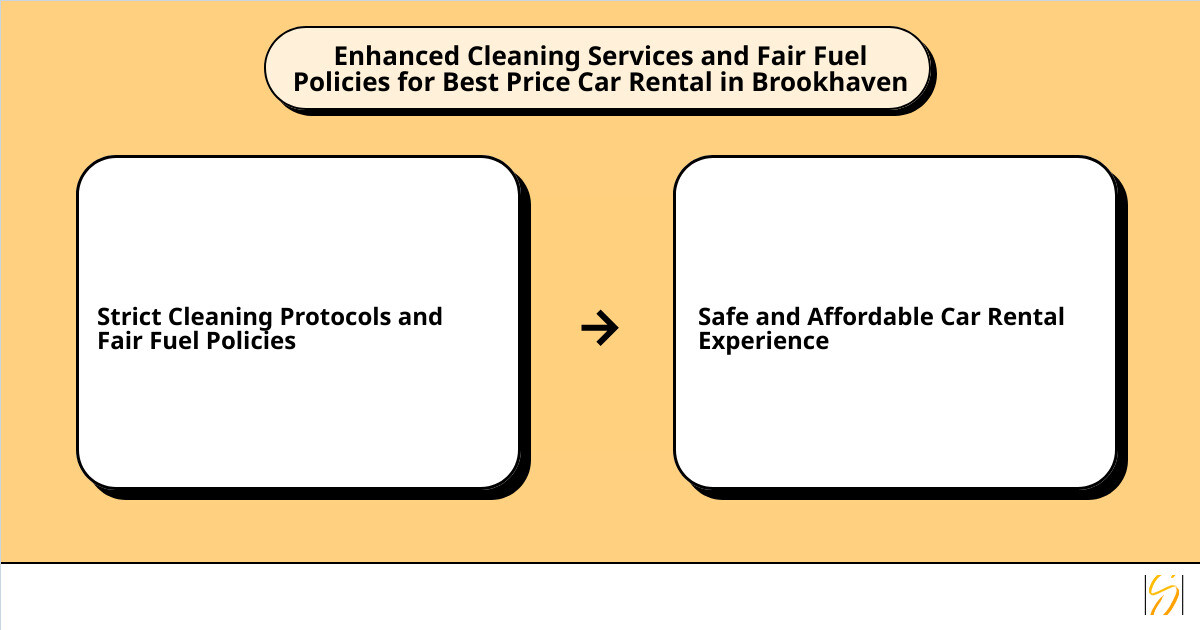 The above infographic highlights our enhanced cleaning protocols and fair fuel policies, further emphasizing our commitment to an excellent customer experience.
Choosing Choice Signature Luxury Car Rental in Brookhaven means choosing luxury, affordability, and safety. We're committed to providing an exceptional car rental experience every step of the way. Book your car rental with us today and make your journey as memorable as the destination.
Tips for a Smooth Car Rental Experience in Brookhaven
Looking to make your car rental experience in Brookhaven as smooth as possible? Here are some crucial tips to keep in mind when renting a car in this beautiful city.
Understanding the Age Requirements and License Requirements
Navigating the rental car scene can be a bit daunting, especially when dealing with age and license requirements. In several EU countries, drivers must be 18 years old to rent a car. However, in the United States, including Brookhaven, you typically need to be at least 21 years old. If you're under 25, you could be charged a young driver surcharge. It's always a good idea to review the policy of your preferred rental company before booking.
When renting a car in Brookhaven, all drivers must present a full valid driving license. If your license is written in a language different from that of the country of rental, an International Driving Permit may be required. You may also need to provide proof of return travel and accommodation information during your stay. Always check with your rental company for specific requirements.
Navigating the Speed Limits and Weather Conditions in Brookhaven
Brookhaven's speed limit is generally 25 mph when you are driving in the city, 75 mph in the suburban areas, and also 75 mph on the highways. However, these speeds may vary, so always keep an eye out for posted signage.
As for weather conditions, travelers looking to leave from Brookhaven on a road trip around Georgia or the surrounding areas during November should expect temperatures around 53.6 °F and about 3.4″ of possible rain through the month. Always consider the weather conditions when planning your travel and drive accordingly.
Opting for Unlimited Mileage Options and Free Cancellation Policies
At Choice Signature Luxury Car Rentals, we understand that travel plans can change. That's why we offer unlimited mileage options and free cancellation policies. This means you can drive as much as you want without worrying about additional costs, and if your plans change, you can cancel for free.
Renting a car should not be a stressful process. By understanding the age and license requirements, being mindful of the speed limits and weather conditions, and taking advantage of unlimited mileage and free cancellation, you can ensure a smooth and enjoyable car rental experience in Brookhaven. With Choice Signature Luxury Car Rentals, you're not just renting a car — you're booking an unforgettable luxury experience. Contact us today to book your dream car and make your journey in Brookhaven a special occasion.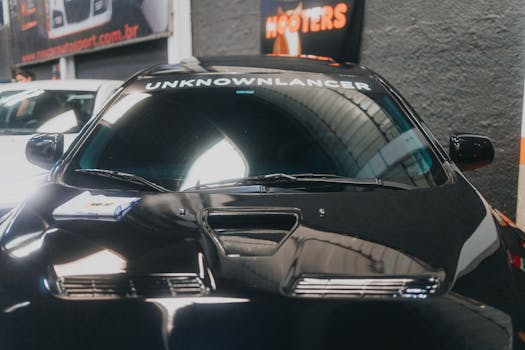 Conclusion
Making Your Car Rental in Brookhaven a Special Occasion with Choice Signature
At Choice Signature Luxury Car Rental, we believe that a car rental should be more than just a necessity — it should be a special occasion. We transform the mundane task of renting a car into an extraordinary experience by offering an exclusive fleet of luxury and exotic cars. Our vehicles, ranging from the likes of BMW, Mercedes, Porsche, to the Cadillac Escalade, turn heads and command attention, making your journey in Brookhaven a memorable one.
Our commitment to delivering a high-quality service extends beyond our impressive fleet. We offer competitive pricing, taking the stress out of finding the best price car rental in Brookhaven. With us, you don't have to compromise on quality for affordability.
In addition to our exceptional vehicles and prices, we prioritize our customers' safety and comfort with our enhanced cleaning services and fair fuel policies. When you book with us, you can rest assured that your rental car is thoroughly cleaned and ready for your journey.
Final Thoughts on Securing the Best Price for Car Rental in Brookhaven
Securing the best price for your car rental in Brookhaven doesn't have to be a daunting task. By timing your booking, comparing prices from different rental companies, and utilizing online platforms like momondo, you can find the best deals that suit your budget and needs.
While it's essential to find a car rental that fits within your budget, it's equally important to choose a rental company that offers quality vehicles and outstanding service. At Choice Signature, we provide just that. Our luxury car rental service ensures that you get the best value for your money, turning your car rental experience into a special occasion.
In Brookhaven, car rental prices fluctuate, but one thing remains constant — our commitment to providing you with a luxury car rental experience that exceeds your expectations.
Whether you're planning a business trip, a weekend getaway, or a road trip around Georgia, make it a special occasion with Choice Signature. Contact us today to secure the best price car rental in Brookhaven and embark on a journey in style and comfort.
Remember, with Choice Signature Luxury Car Rental, you're not just renting a car — you're booking an unforgettable luxury experience.